BlueLink High Noise Dual Muff Headset BT


BlueLink High Noise Dual Muff Bluetooth Headset is professional grade wireless headsets for high noise environments. Pairs with most Bluetooth devices. Rugged design with noise cancelling boom mic and padded speakers. The noise canceling dynamic boom microphone produces clear transmissions even in high noise areas where hearing protection is required. NRR rating 24db Soft Velcro strap fits comfortably under a hard hat or baseball cap. The head straps are adjustable for a secure and comfortable fit. Speakers are located in both ear cups.

*Includes USB charging cable and wall charger.

HNDM BT: Padded head band for extra comfort. Used in most high noise enviroments. Used in Firetrucks with Bluetooth Radios. Can connect up to 4 headsets per radio.

Features:
Fully integrated Bluetooth technology. No wires and No external BT boxes. Clean and professional.

Dual operation Bluetooth for use with both Cellphones or Tablets simultaneously with Two-way radios.

Separate control buttons for PTT (radio) and Cellphone (Answer / Call).

Sealed rubber control switches give positive user feedback and are sealed to keep dust and moisture out.

Two color LED indicators show status of power, low voltage, linked, etc.

Foam Ear Pads are easy to replace or upgrade to GEL type for maximum comfort!

Noise reducing condenser boom microphone with wind sock is easy to replace.

Bluetooth version 3.0, Class 2. HSP, HFP, A2DP, AVRCP.

Typical range approx. 10 meters (30 feet)

Operating time approx. 10 hours. Standby 50 hours.

Charging cable (USB type) and Wall Charger included.

Operating temperature range -15° C to +50° C

.
TECHNICAL Specs:
Bluetooth Version 3.0

Profiles: HSP, HFP, A2DP and AVRCP

Typical Operation Range: 10 Meters (30 feet)

Standby time: 50 hours

Talk time: 10 hours

Rechargeable Battery: 3.7V, 330mAh Lithium-Ion

8.7in X 5.12in x 3.5in

0.78 lbs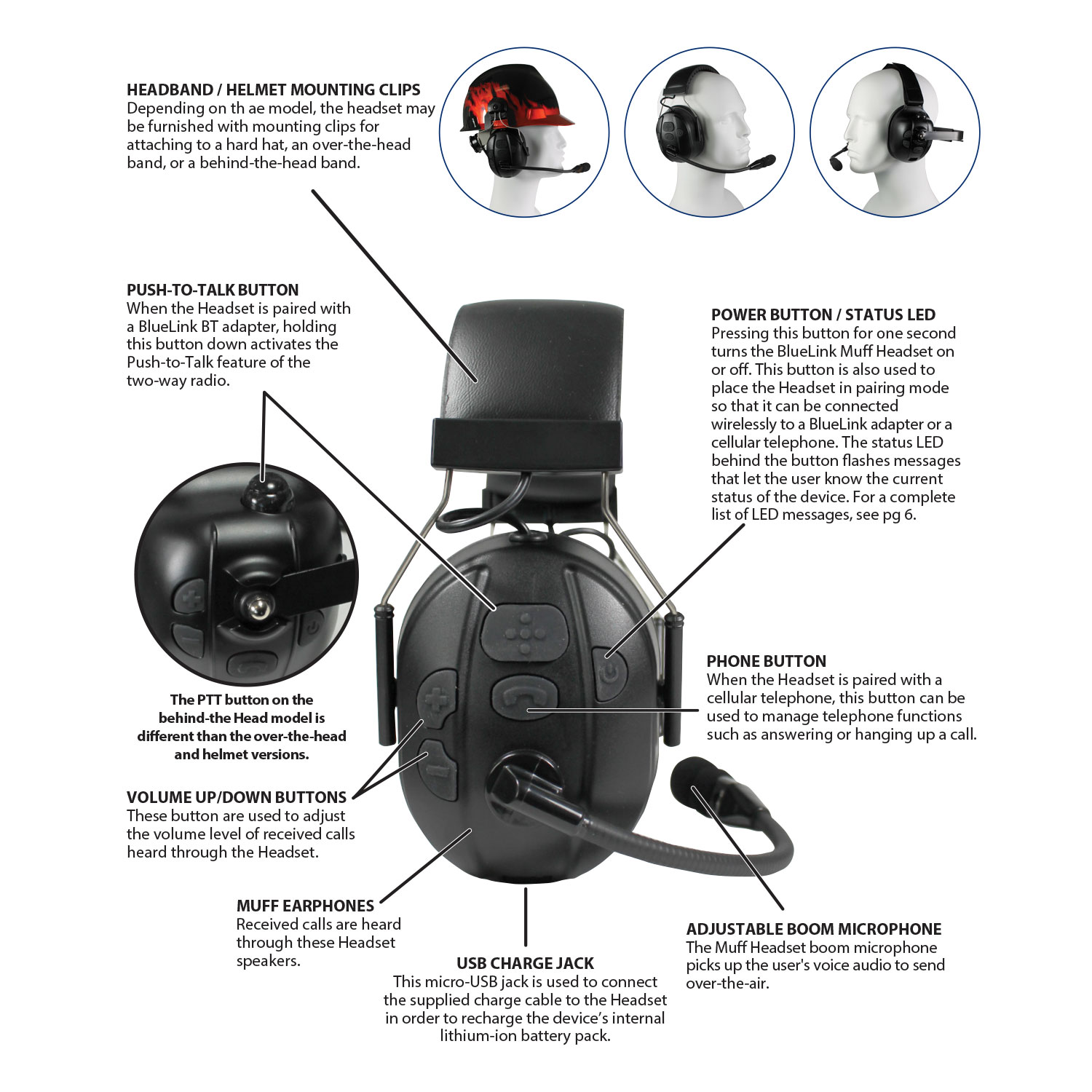 Instructions: First get your Bluetooth headset into pairing mode and then get your BlueLink Adapter or Bluetooth device into pairing mode. Make sure when they both are in pairing mode that they are next to each other and that there are no other bluetooth devices nearby that would interfere with the BlueLink pairing process.

View the BlueLink HNDM Headset Manual