Sherlock Lapel Microphone

Single wire lapel microphone with clear acoustic tube earpiece. A best seller for Code Red Headsets for discrete communications with film crews, casinos/resorts, museum security, crowd control at concerts, and hotel housekeeping. Connector now available for Model XPR3300e/3500e Radios. Our Kevlar® reinforced cable stands up to daily use.

Also available in Quick Disconnect (QD) only and Quick Disconnect (QD) w/ connector.

- Clear tube earpiece can be worn on either ear
- Earpiece has field replaceable components
- Low profile lapel microphone with easy to use push-to-talk button
- Sturdy metal clothing clip attaches to shirt or jacket
- Kevlar® reinforced cable guarantees reliability.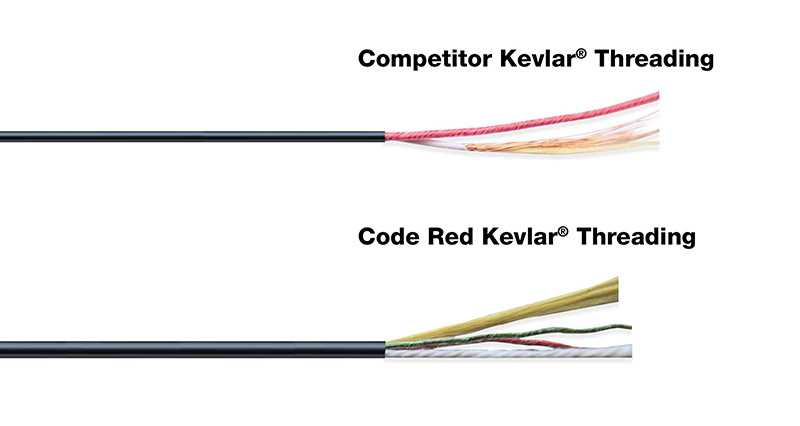 14 Reviews
High quality build and crystal clear sound. Best customer service too...product shipped same day ordered & arrived ahead of schedule.

Great headset for residential security work

I switched from the Signal 21 Speaker Mic to The Sherlock Lapel Mic. It's great to listen for confidential information without the info being broadcast to the public. It's also helpful since I can keep my handheld radio on and use my vehicle radio without any feedback and can tell if I transmit clear or if I stepped on someone while transmitting. Great and comfortable piece of equipment.

Head set works great, again many thanks to Micheal for all his patience and all his work to get what I needed. Will definitely order again in the future and I highly recommend this company, AAA win my book!!!

The ear piece part works great. 5* for that. However, the microphone is absolutely terrible. I press the button and hold it extremely close to my mouth (closer than you would hold a normal mic) and still no one can understand me. This creates a huge safety risk since I am not able to contact dispatch or my back up clearly and efficiently. If there was a way to get that fixed, I would definitely use the head set again and probably even refer the product to my coworkers. I hope Code Red can work with me to resolve this issue.

This is the second set I have bought of the quick connect. I personally like this set up because the mic is easily hidden but still comes out clear on your transmission. My first set only lasted about a year and I had to clean my ear piece about once a month due to ear wax building up. Overall I would recommend this set.

Outstanding Customer Service

I was having connectivity issues with my mic set and PTT button. I contacted the folks down in Shipping and they treated me like family. Erica was truly concerned and remembered me even from a previous order almost a year ago. I depend on this product to work and to work well. She treated it as such also! Thank you Erica and the folks over at shipping. Got my mic set fixed promptly and sent back within a week or so.

easy, quick and less than ordering from GALLS

Works well and arrived quickly

Works well and arrived quickly

Code Red Headsets delivers yet another excellent product! Audio quality is great in receiving and transmitting. The mic cuts out the background noise much better than the Amazon special i ordered prior to this. When it comes to electronics, you get what you pay for!